Grant Alternative School

Gardens

Back to Grant
Raising the repaired birdhouses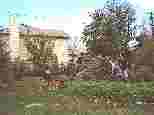 click for larger view
The circle garden has some new benches. The wood came from the "Giant Sling Shot" that you can see in action just behind the water rocket launcher on the science page. It hadn't been used for several years and is now enjoying a new life, closer to the students.

click for larger view
The bench in the middle has sneakers and jeans. And I think it also has socks, but you'll have to check for yourself. It looks a little like IO's brother.
The Grant Garden Newsletter is here
Thanks to the hard work of Brenda and Jorgan in the early years of Grant, we now have a beautiful garden with many perennials, herbs and of course trees. Some of these trees are now 5 metres tall. Not only is the garden a source of joy to the students and staff, but it is a favourite place for residents of the neighbourhood to stroll.
Cost to the Board $00.00 (we even cut the grass)
The newly renovated birdhouses
An article about our gardens. Read it here. Thanks to the "The Peace and Environment News"
---

[ NCF Homepage ] [Search] [Grant Alternative School]
Last updated by: Pierre Kerr ac210@freenet.carleton.ca on June 26, 2002